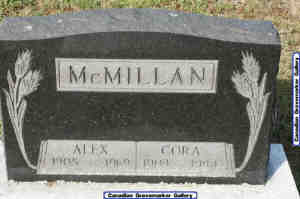 Alexander McMillan
(1905-1969)
Alexander McMillan
Born: 30 Jan 1905, Webbwood, Ontario
Marriage: Cora (Alma) Lauriault
Died: 3 Sep 1969, Webbwood, Ontario at age 64 1
Buried: Webwood Protestant Cemetery


General Notes:
Six (6) children from this marriage (One died at birth) Source: Diane Arsenault

Alexander married Cora (Alma) Lauriault, daughter of Jean-Baptiste Lauriault and Vitaline LaBarge. (Cora (Alma) Lauriault was born on 17 Mar 1903 in Chelmsford, Ontario, died on 20 Nov 1994 in Webbwood, Ontario and was buried in Webwood Protestant Cemetery 2.)

Sources
---
1 Cemetery headstone, Webwood Protestant Cemetery.
2 Ibid.