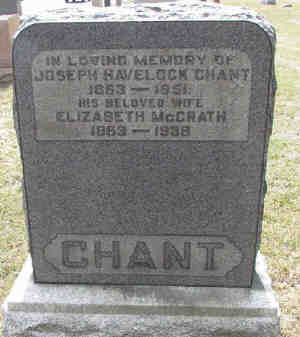 Joseph Havelock Chant
(1863-1951)
Joseph Havelock Chant
Born: 1863 2
Marriage: Elizabeth McGrath on 1 Jun 1886 in Sterling, Ontario 1
Died: 1951 at age 88 2
Buried: Unionville, Ont. -Hagerman West Cemetery


General Notes:
Father's obit shows Joseph from GTR/Lakefield
Mr. & Mrs. Chant shown as members of Central United Church in 1927

Markham history book identifies "Loch" as station master at Unionville. This is also occupation (station agent) shown on marriage certificate


Noted events in his life were:
• Occupation: Watchmaker.

Joseph married Elizabeth McGrath, daughter of Unknown and Margaret, on 1 Jun 1886 in Sterling, Ontario.1 (Elizabeth McGrath was born in 1863,2 died in 1938 2 and was buried in Unionville, Ont. -Hagerman West Cemetery.)

Sources
---
1 Ancestry, Ontario Canada Marriages.
2 Cemetery headstone.