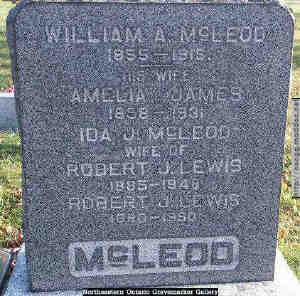 William A. McLeod
(1855-1915)
William A. McLeod


General Notes:
Samuel McLeod says that he noted an infant daughter that died in 1884.
William owned several business in Manitowaning.
Occupation on Death Certificate: Indian Agent
Occupation on marriage register: Cabinet maker

Hilly Grove Cemetery
Assisinack Township, Manitoulin Island, Ontario, Canada

William married Amelia (Emma) James, daughter of Thomas James and Mary, on 1 Jan 1879 in Simcoe, Ontario.1 (Amelia (Emma) James was born in 1858 and died in 1931 5.)

Sources
---
1 Ancestry, Archives of Ontario; Toronto, Ontario, Canada; Registrations of Marriages, 1869-1928.
2 Ibid, Ontario Deaths, 1869-1938, 1943 and Deaths Overseas.
3 Ibid, Ontario, Deaths 1869-1938, 1943 and Deathd Overseas.
4 Stuart McLeod letter..
5 Ancestry, Gravestone.