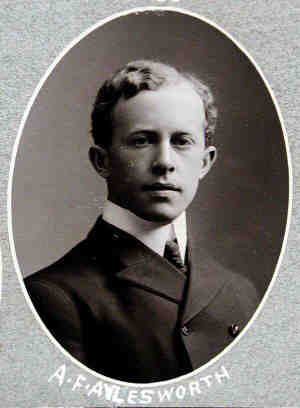 Alan Featherston Aylesworth
(1880-1919)
Alan Featherston Aylesworth
Born: 9 Aug 1880, York
Marriage: Ellen Elizabeth Gladys Burton on 20 Feb 1906 in York, Ontario 1
Died: 24 Aug 1919, Simcoe, Ontario at age 39
Buried: Mount Pleasant Cemetery, Toronto


General Notes:
Birth, death dates and name spelling from gravestone
Name seen in Family Trees as Allen

Alan married Ellen Elizabeth Gladys Burton, daughter of Warren F. Burton and Mary Atkinson Robinson, on 20 Feb 1906 in York, Ontario.1 (Ellen Elizabeth Gladys Burton was born on 26 Sep 1881,2 died on 16 Nov 1963 and was buried in Mount Pleasant Cemetery, Toronto.)

Sources
---
1 Ancestry, Ontario Canada Marriages 1801-1928, 1933-1934.
2 Ibid, Ontario Canada Births 1858-1913 (Wentworth 1881).