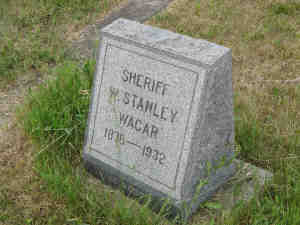 Walter Stanley Wager
(1876-1932)
Walter Stanley Wager
Born: 23 Feb 1876, Enterprise, Lennox & Addington, Ontario 3
Marriage (1): Hattie Ella May Chant on 12 Jun 1907 in Lennox & Addington 1
Marriage (2): Rhoda Alice Marlin in 1904 2
Died: 1932, North Bay, Nipissing Ontario at age 56
Buried: Centreville United Chuch Cemetery 4


General Notes:
Cemetery gravestone inscription is:
Sheriff
W. Stanley Wagar
1876-1932


Sarah Jane Chant has spelling of surname as "Wagar"

Walter married Hattie Ella May Chant, daughter of Joseph Horatio Chant and Mary Matilda McKim, on 12 Jun 1907 in Lennox & Addington.1 (Hattie Ella May Chant was born on 2 Apr 1881 in Cardinal, Ontario,5 died on 5 Apr 1964 in Toronto, Ontario 6 and was buried in Centreville United Chuch Cemetery 7.)

Walter next married Rhoda Alice Marlin in 1904.2 (Rhoda Alice Marlin was born in 1879 and died in 1905.)

Sources
---
1 Ancestry, Chant Family Tree authored by ADChant1.
2 Ibid, Cox Matthews March 2010 Fmily Tree.
3 Ibid, Austin Family Tree and Cox Matthews March 2010 Tree.
4 Ibid, Find A Grave # 61803418.
5 Rev. J.H. Chant Family Bible.
6 Sarah Jane Chant.
7 Ancestry, Find A Grave Index.