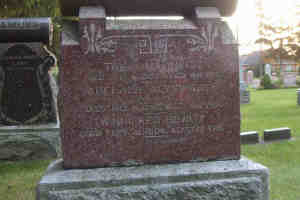 Tantum Howitt
(-1907)
Tantum Howitt
Marriage: Lois Adelaide Aylsworth
Died: 16 Jul 1907 1


General Notes:
Gravestone says he died at 48 years of age, same day as Adelaide.

Tantum married Lois Adelaide Aylsworth, daughter of Daniel Perry Aylsworth and Lucinda Fralick. (Lois Adelaide Aylsworth was born on 7 Feb 1861 in Ernestown, Lennox & Addington Twp, Upper Canada and died on 16 Jul 1907 1.)

Sources
---
1 Ancestry, Gravestone.