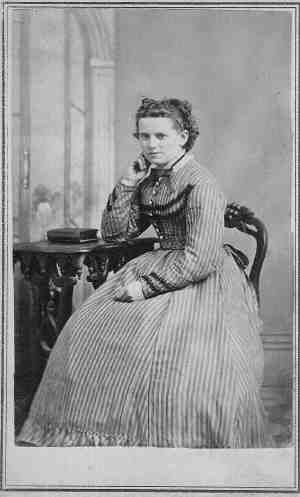 Ida Matilda Aylsworth
(1849-1934)
Ida Matilda Aylsworth 1
Born: 1 Feb 1849, Ernestown, Lennox & Addington Twp, Upper Canada
Died: 30 Jul 1934 at age 85 2
Buried: Dorchester Union Cemetery


General Notes:
Ida was a daughter of Daniel Perry AYLSWORTH and his wife Lucinda (nee FRALICK). She did not marry. Ida was a sister of Ebenezer AYLSWORTH, who married Rosanna WILSON. This picture gifted to Samuel Wm. Aylesworth in June 2012 from family members in Ontario, Canada. It comes from photo album owned by Catherine BELL, the daugther of Mercy AYLSWORTH who was a sister to Ida's father Daniel Perry AYLSWORTH. Inscription on the back of the photo reads "Ida Aylsworth, Cousin"

Sources
---
1 Ancestry, Family Tree of Linda Smith UE.
2 Ibid, Gravestone photo.